Freed childcare burglar Wayne Bishop jailed for assault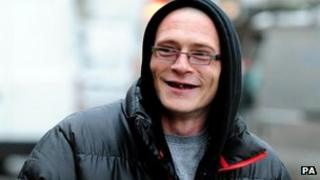 A burglar from Nottingham who was freed from prison to care for his children has been sent back to prison after being convicted of assault.
In May 2011, Wayne Bishop, 34, won an appeal against an eight-month sentence by arguing the needs of his five children had not been considered.
But Bishop, of Failsworth Close, was later found guilty of punching a man in Aspley, Nottinghamshire, on 19 June.
He has now been jailed for eight months at Nottingham Crown Court.
Bishop admitted burglary and an offence of dangerous driving in 2010, last April.
He had argued that an eight-month sentence for the crimes was a breach of his human rights and insufficient consideration had been given to the plight of his children, the youngest being seven and the oldest 13.
'Ace of trumps'
The Court of Appeal reduced his sentence to a 24-month suspended sentence last May.
Less than a month later Bishop assaulted a man in a Spar store in Aspley.
In January, he was found guilty of the attack and of breaching the suspended sentence after a trial at Nottingham Magistrates' Court.
Sentencing Bishop at Nottingham Crown Court, Judge Michael Stokes QC said: "We all have the right not to have our homes and premises burgled. We all have the right to walk in the street without fear of being attacked.
"The rights that are set out by the Human Rights Act in the European Convention are not to be produced like the ace of trumps to avoid a prison sentence."
Outside court Bishop's niece read out a statement saying the family did not condone "the way Wayne has dealt with the situation".
It continued: "He was trying to protect his niece and has ended up back in court.
"I truly feel it for his children and the effect people not having the facts and all the media is having on his children."