Farmer Keith Littlewood banned from keeping cows and pigs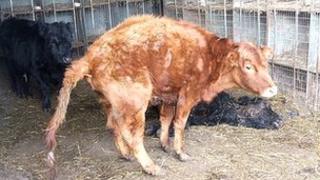 A Nottingham farmer who was jailed for animal cruelty has been banned for eight years from keeping pigs and cows.
Keith Littlewood, 47, admitted hygiene and animal cruelty charges after county council officers went to White Haven Farm, Bestwood, in March 2011.
He was given a 12-month prison sentence in January.
Littlewood was banned at Nottingham Crown Court from keeping, transporting or dealing in pigs and cows until 2020.
He will be allowed to keep other animals.
At the earlier hearing, Littlewood admitted eight breaches of the Animal Welfare Act, relating to cruelty and causing unnecessary suffering to pigs, cattle and a dog.
He also pleaded guilty to four offences relating to the disposal of eight cattle, one donkey and an unquantified number of pig and poultry carcasses.
County council trading standards officers said they were called to the farm in March 2011 by a concerned member of the public.
They found some animals feeding on the bodies of others, a dog locked in a room and surrounded by faeces, and the remains of burnt carcasses.
Four animals found alive were in such bad condition they had to be destroyed.
The court heard Littlewood had become depressed after the death of his mother in November 2009 and had subsequently found simple and straightforward tasks difficult.