Nottinghamshire County Council adoption service downgraded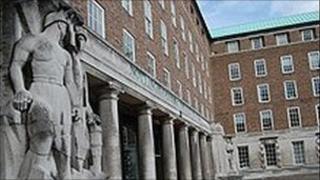 Nottinghamshire County Council has had its adoption service downgraded following an Ofsted inspection.
It is now deemed as satisfactory compared with good when the last assessment was carried out in 2008.
The report said restructures and staff turnover had affected the development of the service over the past two years.
The council said it was "disappointing" but following its restructuring measures within the service it was confident of improvements.
Nottinghamshire County Council said it had 776 children in care, nearly double the number in 2008.
Councillor Philip Owen, cabinet member for children and young people's services, said: "This latest inspection follows the period since the case of Baby P when awareness of issues facing children in care grew substantially, bringing about a considerable increase in demand on our services.
"And whilst it's slightly disappointing that our overall rating has changed, I am reassured that our provision is sound and by the major investment we've made into improving in this area.
"After restructuring within the service, I am confident that it will improve further."