Police appeal over Nottingham cash box robber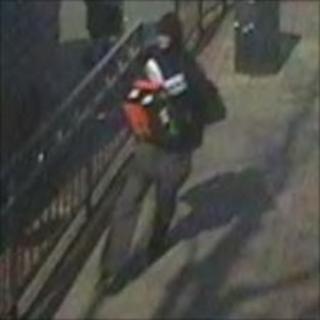 Police in Nottingham are trying to trace a man who threatened a security guard with what is thought to be an axe, before stealing a cash box.
The thief stole the box from the guard while he was outside the Carlton Hill branch of Lloyds TSB bank at about 12:15 GMT on Thursday.
Police believe the thief was driven off by someone else, emptied the cash box and threw it away into Wheatley Drive.
Police said the offenders would be covered in a purple dye from the box.
A Nottinghamshire Police spokesperson said the cash would also have been covered by the dye.
A CCTV image has also been released, showing one of the suspects wearing a "distinctive" top with light-coloured chevrons on the front.
Police added the robbery took place at a busy time of day and believe there are still witnesses who have not yet come forward.
No-one was injured during the robbery.