Nottingham City Council approves £20m budget cuts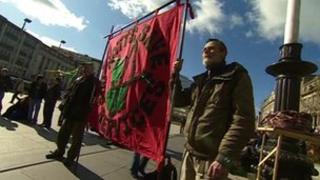 Nottingham City Council has approved its budget for the forthcoming year that will see £20m in spending cuts.
The authority has agreed to raise council tax by about £36, cut 195 jobs and close the Marlstones Elderly Person's Home in Bulwell.
The Labour-run authority said the measures were needed to protect services for the most vulnerable.
A demonstration was held in the Old Market Square in protest over the spending cuts.
Public sector union Unison said the proposals would have a "massive impact".
Jean Thorpe, from the union, said: "We are now into the fourth year of cuts being made by this Labour council, so they're now cutting into the bone of council services and it's going to have a massive impact.
"Probably the cruellest cuts are the threats to close elderly people's homes."
'Arrogant response'
Nottingham City Council faces a 7.36% cut in government funding and said it needed to save at least another £24m by the end of spring 2015.
In January, Graham Chapman, deputy leader of the city council, said: "The government's cuts are unfair on cities like Nottingham.
"We have done what we can to protect the most vulnerable and those front-line services which people rely on most, but it is incredibly difficult when these cuts come on top of years of our own prudent efficiencies and last year's £60m of government cuts."
Local Government Minister Grant Shapps said the council's cuts and council tax rise were the "arrogant response" he had come to expect from Labour-run Nottingham.
Mr Shapps said sharing backroom services with other authorities and cutting senior pay should come first.