Homes to get forensic protection against metal theft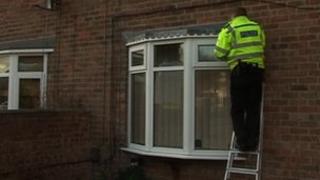 Houses in Nottinghamshire are being painted with a forensic liquid to stop thieves ripping metal from them.
Police are using SmartWater on copper pipes and lead flashing at homes in parts of the county with the highest levels of metal theft.
The liquid is invisible to the naked eye but can be seen with a UV light, cannot be washed off and has a unique code registered to the property owner.
Areas being targeted include Bestwood Park and Top Valley.
The liquid has already been used on street furniture in Nottingham as well as more than 30,000 churches and heritage buildings nationwide.
'Morally bereft'
The move coincides with the launch of a regional police team, based in Newark, working to tackle metal theft in the East Midlands.
Ch Insp Sean Anderson, region lead for metal theft reduction, said 48% of reported cases were from people's homes.
He said: "These morally bereft thieves now appear to have set their sights on residential properties, tearing at lead flashing from around windows and ripping out copper pipes.
"By protecting metal on houses throughout Nottinghamshire with SmartWater, we are not only protecting the occupants who live there but also ensuring thieves are no longer able to sell on their illicit wares thanks to its distinctive yellow glow."
Ch Insp Anderson said the campaign would be backed up by police visits to scrapyards around the county to check for evidence of the liquid on metal there.