Concerns over Kimberley leisure development on greenbelt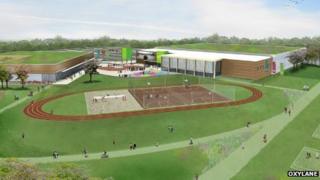 Concerns have been raised over plans to build a £16m sports and leisure village on greenbelt land just off the M1 motorway in Nottinghamshire.
Oxylane, the firm behind the scheme, said the Kimberley development would include a range of sporting activities, many of which would be free.
It said the proposed 50-acre village could also create up to 200 jobs.
Richard Robinson, from Broxtowe Borough Council, said there were concerns about urban sprawl and further congestion.
He said traffic was already a problem in the area and the developers would have to convince people that the project would not increase congestion and lead to "further sprawl on greenbelt land".
The proposed Oxylane Village would be built at a major junction of the A610 and the M1, to the north west of Nottingham, and was based on an existing model used in France, the company said.
Luke Fillingham, UK director of Oxylane Villages, said the development "would be a first for the UK".
He said the idea behind the development was to encourage people to make use of open spaces.
Mr Fillingham said the sports village was a very successful concept in France - with each of the 10 existing sites attracting more than 1m visitors each year.
Plans also include a number of landscaping schemes to enhance the site and a sports superstore, operated by Oxylane's sister group, Decathlon, he said.