Boxing 'breaks down gang rivalries' in Nottingham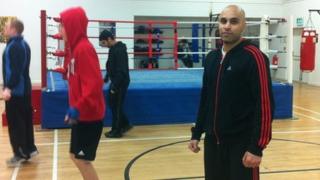 Former gang members say boxing sessions are helping to break down rivalries between different areas of Nottingham.
The KK Gym in Carlton Road was co-founded by Marcellus Baz, whose own boxing career was halted when he was attacked with a cleaver.
The 35-year-old is working with young people from different neighbourhoods, using sport to break down barriers.
He said boxing had saved him from "jail, or worse" and he wanted to offer youths the same help.
Mr Baz said: "I was born in The Meadows and used to get into trouble on the streets and mix with the wrong crowd.
"Boxing helped me release my aggression and energy and helped me to become more disciplined and respectful towards other people.
"So when I couldn't box anymore I decided to try and help others."
'Represent your code'
The project aims to tackle so-called "postcode rivalries", which has resulted in a long-standing rivalry between some people in The Meadows and St Ann's areas.
Matt Khan, 23, from The Meadows, said: "It used to be if you beat up a guy from St Ann's you'd bring down that area - you would represent your "code".
"But now we talk to each other about boxing and I respect them."
Mr Baz added: "It wasn't really deliberate to bring the gangs together, but it has actually broken down some of the rivalry."
Jerome Thomas, 24, from St Ann's, said the club had helped turn his life around.
He said: "Before I was boxing I was a bit of a bad lad - hanging around with the wrong crowd - selling drugs and getting involved in crime."
Mr Thomas said he previously wanted to follow the example of his older brother.
He said: "He ended up getting stabbed and almost died, so I didn't want to go down the same route - I wanted to make my family proud.
"This place has done a lot for me - I could have ended up dead.
"A few of the guys from The Meadows who I had a problem with come here now and they are my friends."