Nottingham Occupy eviction court case delayed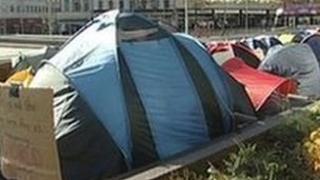 A legal bid to evict dozens of Occupy Nottingham protesters camped on Old Market Square has been delayed.
Nottingham City Council is applying for an order to move the protesters, but a County Court judge granted the group three days to organise a legal team.
The Occupy group, which is protesting against the international financial system, set up its camp in October.
The protesters argue that the square is public land and they have the right to stay there.
The hearing will resume on Friday at Nottingham County Court.
The protesters, who held a protest outside court on Tuesday, have vowed to stay in the Market Square for as long as possible.
A city council spokesman said the council had "an increasing number of businesses and members of the public who have raised concerns" about the encampment.