Geoff Thomas supports Nottingham City Hospital cancer research programme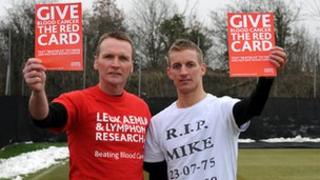 Former Nottingham Forest and England footballer Geoff Thomas will visit Nottingham City Hospital later to support new research into cancer.
Thomas, who survived leukaemia himself, is championing Leukaemia & Lymphoma Research's Trials Acceleration Programme (TAP).
The City Hospital is one of 13 hospitals in the UK to have a clinical trial centre as part of TAP.
The charity says the centres will speed up access to new blood cancer drugs.
Thomas said: "I know that so many people I have met wouldn't have died from blood cancer if more clinical trials were available sooner.
"Together we can make a massive difference in people's chances of survival by supporting this project."
Thomas was diagnosed with leukaemia shortly after retiring in 2003.
His life was saved because of a bone marrow match with his sister.
"I'm inspired by people on the ward who didn't make it," he said.
"New treatments are desperately needed to save more lives. TAP will make a massive difference to people's chances of survival."
Thomas urged football fans to donate at half-time during Forest's recent match against Coventry City.
'Fans come together'
The campaign, called Give Blood Cancer the Red Card, was also supported by Coventry's Carl Baker whose brother recently died from leukaemia.
Two children treated for blood cancer in Nottingham led the teams out at the start of the match.
Thomas said: "It was great to see two sets of rival fans come together, generously donate their money and help save the lives of local people."
Professor Nigel Russell, from the Clinical Haematology department at Nottingham City Hospital, said: "The TAP project links 13 centres across the UK to speed up the progression of research in labs to medicines for patients.
"It will mean that when a trial opens, it opens across the UK rather than just at one particular hospital.
"Here in Nottingham it means that people with blood cancer can access treatments that may otherwise not have been available to them."
He added that the trials will also be completed quicker.
"We will know whether a new treatment is more successful and whether it will be of more benefit to patients than current drugs, generally within around two years.
"If approved for widespread use then we can do even more to save lives."