Nottingham Occupy eviction bid delayed by three weeks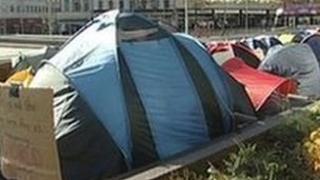 A bid to evict dozens of Occupy Movement protesters camped on Nottingham's Old Market Square has been delayed for three weeks.
The city council is applying for an order to move the campaigners, who set up camp on 15 October.
But a County Court judge has granted more time to prepare their legal case.
Occupy protests against what it calls failings in the international financial system and claims the square is public land and it has the right to stay.
A city council spokesman said: "We have been in dialogue with the Occupy protesters throughout their five-month stay in the square.
"We have said all along that we respect their right to protest but that the city centre should not be used for encampments and that they could not remain there indefinitely."