Broadmarsh drops parking rates to encourage workers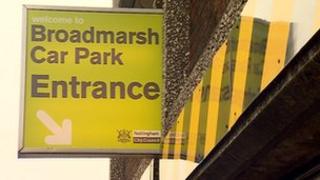 A new cheaper rate has been introduced at one of Nottingham's largest car parks to encourage more workers to use it.
Nottingham City Council is now charging £3.90 to park all day at the Broadmarsh multi-storey car park for anyone arriving before 09:30 during the week.
Drivers were previously charged £15 to stay at the 1,263-space facility for up to 12 hours.
The council said it was currently only used by about 600 cars a day.
A spokesman said Broadmarsh was traditionally seen as a retail car park and the new lower rate would help workers view it as an alternative to parking at work.
The council said the new rate was unconnected to the introduction of the new Workplace Parking Levy in April, which will see businesses in Nottingham charged £288 per year for each of its parking spaces.