Nottingham awarded £1.6m for 'green' buses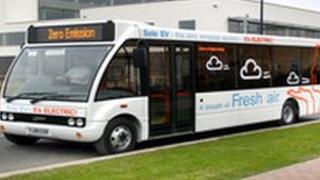 Nottingham has won more than £6.5m in government cash to buy environmentally friendly buses and improve its transport network.
The city council will buy 19 new low-carbon buses and install more bus shelters, CCTV and electronic displays.
About £1.6m will be spent on either electric or gas-powered buses.
The city is one of 24 local authorities across the UK to get a portion of the £101m grant, which aims to increase economic growth and cut CO2 emissions.
Almost £5m will be spent on 10 Nottingham bus routes to improve the standards of service and create "more attractive and reliable" bus travel, the city council said.
The new buses will replace the oldest of the 60 city council's buses, saving around £130,000 a year in fuel costs and reducing maintenance costs.
It is estimated the green buses will result in a 40% carbon savings over conventional diesel buses, the council spokesman added.