Ex-Nottinghamshire union leader 'did not see invoices'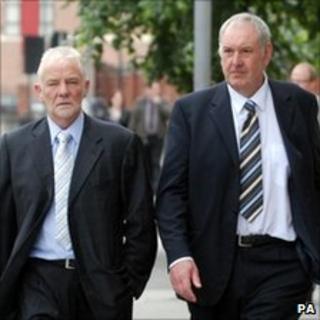 A former Nottinghamshire union leader accused of stealing £150k from a miners' charity signed cheques without seeing invoices, the court heard.
Mick Stevens, 60, former general secretary of the Union of Democratic Mineworkers (UDM) said Neil Greatrex, 60, ex-president of UDM, would tell him what work needed doing to a care home.
Mr Stevens told Nottingham Crown Court he would then sign a cheque without seeing an invoice for the alleged work.
Both men deny the charges.
Mr Greatrex and Mr Stevens are charged with 14 counts of theft, from a nursing home, a subsidiary of the UDM charity Nottinghamshire Miners Home, between 2000 and 2005.
The men were trustees of the charity and the associated subsidiary company. They were able to sign cheques on its behalf, the jury was told.
'Own home improvements'
It is alleged they billed the charity for sick miners for improvement work to the care home which was actually being done on their own properties.
Mr Stevens, from Rufford Park in Newark, said he signed a cheque for £36,000 for building work and general refurbishments which he believed were for the nursing home, the court heard.
"I didn't really get involved in it (the home) as Neil was doing just fine running it," he said.
"As Neil's signature was on the cheque I believed he'd authorised it as operational director. I trusted Neil and believed whatever he was doing as operational director was right."
With regard to another payment for £16,000, Mr Stevens said: "I can't remember. I would have authorised the payment for work that Neil said needed to be done."
Mr Stevens told the court he paid for improvements on his home by cash or through a separate company he and Mr Greatrex ran.
He added that he would not have authorised any payment through the charity for work to his or Mr Greatrex's properties.
Mr Greatrex, from Stanley near Teversal in Nottinghamshire, told the court earlier that the care home had paid for a new kitchen for his house but the money was taken in lieu of a salary.
"I believed I was entitled to a reasonable salary and expenses from the home for the work that I was doing for it," he said.
Mr Greatrex added that all other payments for improvements to his home had been paid by cash.
Mr Stevens denied any knowledge of Mr Greatrex having taken a kitchen in lieu of a salary.
The trial continues.