Bassetlaw Hospital abuse accused 'deserved sacking'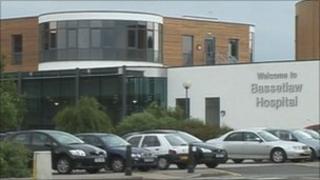 An ex care worker accused of sexually assaulting elderly patients at a Nottinghamshire hospital told a jury he was a "lousy" healthcare assistant.
Matthew Shah, 24, of Savile Street, Retford, denies three counts of sexual assault on three women.
The offences are alleged to have taken place between April and May in 2010 while he was working at Bassetlaw Hospital in Worksop.
He told the jury he believed he "deserved to be sacked".
The charges relate to incidents involving three female patients aged 64, 84 and 88.
'Honourable' intentions
The jury heard the women, who suffer with dementia and incontinence, were all in care homes and visited the hospital from time to time for treatment.
Mr Shah's role involved taking care of the daily needs of patients such as feeding, cleaning and bathing.
He has since been dismissed as an employee of the hospital.
The prosecution claims his actions while cleaning his patients was "wholly improper".
Mr Shah told the court: "My intentions were honourable. My intentions were to clean and cleanse the patients."
He said he thought of himself as a "pretty lousy healthcare assistant".
The defendant admitted he may have been "careless, clumsy and a little reckless" while carrying out his duties.
But he told the court: "I've never had a sexual thought about an elderly woman."
The trial continues.