Nottingham council leader speaks of 'tragic' murder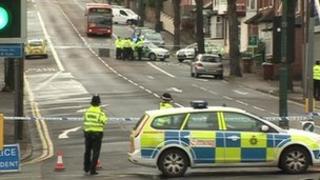 The murder of a teenager outside a pub in Nottingham has been described as "tragic" by the city's council leader.
Malakai McKenzie, 19, of Nottingham died from a gunshot wound following an attack outside the Hubb in Sherwood early on Saturday.
Nottingham City Council leader Jon Collins said: "We must continue to work hard to prevent tragedies like this from occurring."
He appealed for any witnesses to come forward "as quickly as possible".
'Absolutely devastated'
Police were called to the pub on Hucknall Road at 03:30 BST on Saturday after reports that a firearm had been fired.
The teenager was taken to the Queen's Medical Centre a short time after with serious injuries but died later.
Mr Collins said: "This is a tragic incident and everyone's thoughts will be with the young man's family who must be feeling absolutely devastated at what has happened.
"Any incident of this kind is one too many but because of the efforts of the police and partners working with local communities, crime generally has reduced significantly in Nottingham over the last few years."
He said the last fatal shooting in the city was 20 months ago, but added: "We cannot and will not be complacent".
Det Ch Insp Tony Heydon said: "A party was being held at the venue when the incident happened and officers are keen to speak to people who attended the event.
"Their information could prove vital to the inquiry and I would urge them to contact us immediately," he said.
Mr Collins added: "Nottinghamshire Police have a good record in catching people responsible for serious crimes such as this so I'm confident that the person or people responsible will be brought to justice."
A post-mortem examination into the man's death has concluded he died from a gunshot wound.