Team Raleigh-GAC sponsor highlights firm's Nottingham roots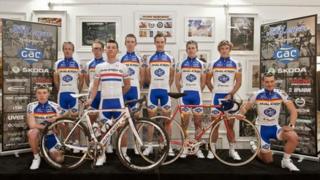 Bicycle brand Raleigh is seeking to strengthen it Nottingham roots through the latest sponsor for its professional cycling team.
Building society The Nottingham has joined GAC and Skoda as a major sponsor of Team Raleigh-GAC.
The Raleigh group stopped manufacturing bike frames in Nottingham in 1999, but the headquarters of Raleigh UK are in Eastwood, in Nottinghamshire.
The group is currently in talks to be taken over by Dutch rival Accell.
'Community work'
David Marlow, chief executive of The Nottingham, said: "Since Team Raleigh-GAC was launched in 2010 they have gone from strength-to-strength and we hope 2012 will be their best year yet.
"We are also looking at opportunities for us to work together in the community in the forthcoming year."
Raleigh, which is celebrating its 125th anniversary this year, was named after Raleigh Street in Nottingham, where it was founded.
It was once the biggest bicycle maker in the world.
The company's former professional cycling team, TI-Raleigh, was successful enough to win the Tour de France in 1980.
However, the team folded in the late 1980s.
Bicycles are now manufactured in the Far East but some are still designed and distributed from Eastwood.
The company is now using its resurrected racing team to help it develop top-end bikes once again.
Raleigh UK marketing director Geoff Giddings said: "The idea behind having a professional race team is to promote the Raleigh name and to provide an opportunity to put our race bikes through their paces in race conditions.
"We can then use this feedback to hone the technology used in other Raleigh bikes in our race range."