Nottingham City Council defends Occupy legal and clean-up costs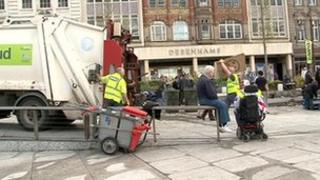 Legal and clean-up costs of Nottingham's Occupy camp will be about £10,000, the council has estimated.
The anti-corporate greed protesters, who set up camp more than six months ago, had been locked in a legal battle over their right to be at the site.
They ended their stay in the city's Old Market Square on Sunday because they feared they would not be able to afford the legal fees to fight to stay longer.
The council said the way it dealt with them was the right course of action.
Trial date set
The authority said the camp had to move as it posed hygiene and safety issues.
A three-day trial to determine whether the camp could be legally removed was due to start on 30 April.
Nottingham City Council said it was standing by its decision to let the protesters stay as long as they did.
Councillor Alex Norris said: "You have to look at other High Court rulings like the occupation in London because if you're the first to go with the legal case, and you're not really sure about your legal case, then that £10,000 can pale into insignificance to the money you can burn through in the High Court.
"So it was right to make sure we were really sure of our legal case and it was right, whilst we were doing that, to try to get a negotiated settlement which I'm disappointed we couldn't do."
One of the Occupy group members, Carl Freeman, said they would now move their campaign to other towns in Nottinghamshire.
The site was one of several set up in the UK in 2011 to voice opposition to what the protesters saw as unfairness in the financial system.