East Midlands Trains drivers' strike disrupts services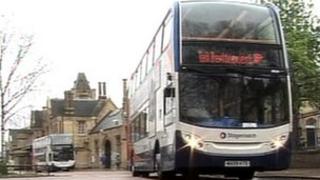 Rail passengers have had their journeys disrupted due to strike action by drivers from East Midlands Trains.
Hundreds walked out on the first of six strikes planned for May over the firm's plans to reduce pension contributions for workers and the company from July.
The train company said the change would not affect pension benefits.
Reduced services were operating on some East Midlands local routes and journeys to London, with replacement bus services on many routes.
These changes affected services from Derby to London, Nottingham to Leicester, Sheffield to London and Nottingham to Grantham.
Tracy Byrne, 48, from Lincoln, said: "It's mildly inconvenient for me, but I value public services so in the view of the people who are striking, if it's worth losing a day's pay for, that's OK with me."
The company said about a quarter of normal services were running between Leicester and London.
Joe Degand, 26, who was travelling by train to an airport to fly home to America, said: "I'm pretty nervous because if I miss my flight it's going to ruin all my plans, I don't know what I would do with my flight."
Further strike action is also due to take place on Thursday and on 8, 10, 15 and 17 May.
'Big concern'
Richard Doran, from drivers' union Aslef, which has more than 450 members at the train company, said the planned pension reduction "could leave a deficit in their pension fund" in the future.
"It's a big concern because in two years we could save a few hundred pounds but I've got 16 years left before I retire and my pension fund could be a reduced pot or nothing," he said.
"I apologise to passengers, we didn't want to strike.
"We've got strikes booked for Thursday and next week, but it would be nice if the company and the union could get together before then and call an end to this."
The union claimed that the pension reduction would save East Midlands Trains about £2m over two years.
Clare McCartney, HR director for East Midlands Trains, said: "Our members and the company can reduce their pension rates for the scheme to remain well funded.
"This doesn't change or reduce their benefits at the end."
The train company said the move would save their drivers about £500 a year.