West Bridgford deaths: Family link is confirmed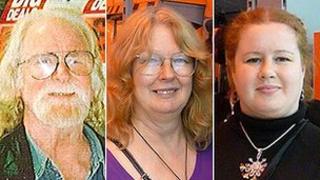 Two people found shot dead in a Nottinghamshire house have been named.
Archie McKelvie, 64, and his daughter Corrin Barker, 31, were found in North Road, West Bridgford, on 26 April.
A third person, found drowned in the River Trent on 15 April, has been named as Pauline Barker, 56, Ms Barker's mother, said police.
Officers are still clarifying the timings and circumstances of the deaths but are not looking for anyone else in connection with the case.
Detectives said Mr McKelvie was last seen at 12:30 BST on 24 April at his North Road home while Corrin Barker, from the Edwalton area, was last seen at 15:00 BST on 25 April in West Bridgford.
The final movements of Pauline Barker, who was from the Lady Bay area, were unclear.
Det Ch Insp Kate Meynell appealed for help from the public: "We know who is involved and we know how they died, we are now trying to piece together exactly when and why this happened.
"The smallest, seemingly insignificant, piece of information to you could very well be a major lead for our investigation."