Nottingham teachers call off strike over change to term dates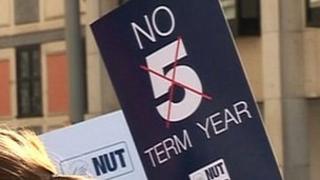 A series of strikes by teachers in Nottingham have been cancelled after the city council agreed to conciliation over a disputed term changes.
The National Union of Teachers (NUT) had planned two more strike days on Wednesday and Thursday.
The two sides will meet at the conciliation service Acas to discuss the proposed move to five terms.
Teachers have already staged three one-day strikes in protest at the introduction of the changes .
An NUT spokesman said there would not be any strikes during the exam period but reserved the right to take action later if the talks failed.
Nottingham City Council said the change would boost attainment, but some teachers viewed the change as disruptive.
The NUT said there was no evidence it would help pupils and claimed it could cause problems with county schools being on a different system.