Injured Nottingham crash expert calls for 20mph limits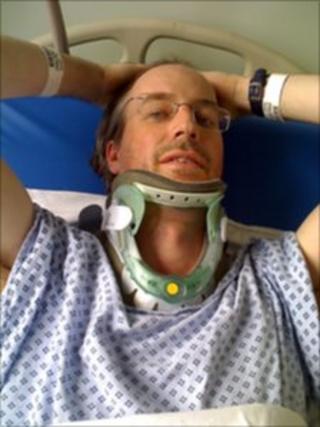 An expert on the effects of road crashes is calling for widespread 20mph speed limits after being seriously injured in a crash himself.
Dr Donal McNally was left for dead when he was knocked off his bicycle while cycling home, on 21 May 2010.
The University of Nottingham bioengineer said lowering speeds would reduce the number of cyclists and pedestrians killed and injured.
He is now backing a campaign by the road safety charity Brake.
Dr McNally, who has spent more than two decades researching the impact of crashes on the spine, said: "The main thing is that [travelling at 20mph] gives the driver more time to see a potential problem and pedestrians or whoever more time to get out of the way.
"If you do have an accident and you hit someone, and you are driving more slowly, that means the energies involved are smaller so the severity of the injury does down."
Brake argues the government is encouraging people to cycle to improve health and reduce emissions, so it must also ensure roads are safe for cyclists.
It wants the Department for Transport to alter its guidance to local authorities, adding provisions which would enable widespread 20mph limits.
In Nottingham, there are already 46 20mph speed limits or zones and approximately 67% of all schools within the city boundary have 20mph limits outside.
Nottingham City Council is considering introducing a larger 20mph pilot scheme in the Sherwood area.
The first stage of the consultation - to find out if it is supported in the community - is due to end in the summer when firm proposals will be put together for a formal consultation period.
Dr McNally was knocked of his bike on a 50mph stretch of the A60, near Bradmore.
He does not remember the crash and the driver did not stop to help.
"A driver of another car saw me on the roadside," he said.
"The driver passed and thought I was a dead dog so they came back to investigate and it was me."
He said he could easily have died or been paralysed.
After a long recovery time, his movement is similar to how it was before the crash, although he expects to have arthritis in later life.
Katharine Amina Choonara, now 29, the driver of the car that hit Professor McNally's bicycle, pleaded guilty to dangerous driving at Nottingham Crown Court.
She was disqualified from driving for 18 months and given a 150-hour community service order.