Used van dealer jailed for fiddling mileage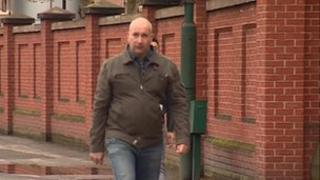 A vehicle dealer who made more than £100,000 by tampering with the mileage of dozens of vans has been jailed for four years.
Maxwell Stuart Alvey, 50, bought the high-mileage vehicles at auction before altering the milometer and selling them to unsuspecting customers.
Alvey, of Gedling Road, Arnold, Nottinghamshire, admitted 10 counts of fraud at Nottingham Crown Court.
He also admitted stealing £125,000 from an elderly aunt.
Alvey was jailed for two years for the mileage fraud and a further two years for stealing from his aunt.
Trading Standards officers from Nottinghamshire County Council investigated Mr Alvey after receiving complaints that vehicles sold by his company - Premier Van Centre, based in Arnold - were showing an unusual amount of wear and tear for their mileage.
They found that out of 123 vehicles offered by the firm, 111 of which had already been sold, only four had not had their clocks tampered with.
It estimated Alvey profited by about £100,000 from the illegal trade between August 2009 and June 2010.
'Absolutely shocking'
In the worst example, Alvey reduced the mileage of a Mercedes Sprinter van from 364,370 miles to just 89,000 miles.
Another Mercedes Sprinter was reduced from 276,000 miles to 76,000 miles.
Prosecutor Adrian Reynolds told the court Alvey admitted fraud offences in relation to 55 vehicles but the Crown could show that more had been tampered with.
Councillor Mick Murphy of Nottinghamshire County Council said: "The extent of the vehicle clocking in this case is absolutely shocking.
"Mr Alvey not only ripped off unsuspecting buyers, he placed their safety at risk by making them think they were driving a vehicle with much less wear and tear."
In relation to the theft of money from his aunt, the court heard that Alvey had power of attorney over her financial affairs because she was unable to handle them herself.
She lived in a care home and was left in a state of poverty when her nephew transferred her money into his own bank account.
Trading Standards will now begin proceedings to recoup profits Alvey made from the clocking scam.
His then-partner, Jane Louise Starbrook, was cleared of any involvement in the fraud at an earlier hearing.