Holiday firm says Madeleine McCann ad website 'closed'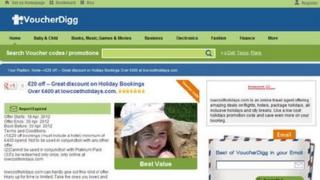 A website criticised for using a photo of Madeleine McCann has been taken down, according to the travel firm whose deals it was promoting.
VoucherDigg.co.uk used a picture of the missing girl in an advert for lowcostholidays.com.
Lawrence Hunt, of lowcostholidays.com, said: "VoucherDigg have confirmed that their website has been closed down."
VoucherDigg.co.uk said on its website: "We unreservedly apologise for the hurt suffered by Mr. and Mrs. McCann."
Lowcostholidays.com had previously said it had been trying to get the image removed and had not given consent for its use.
It described VoucherDigg as a company that "picked up deals and offers via an affiliate network" which had "previously featured holidays from lowcostholidays.com as well as many other well-known holiday companies".
'No consent'
An expert in affiliate marketing, who works for a firm that matches "publishers" such as VoucherDigg.co.uk with "brands" such as lowcostholidays.com, said it was likely the image had simply been added by a VoucherDigg employee after using a web search engine to find a relevant image to use on the lowcost page.
He added a company based outside the UK, like VoucherDigg, may not have necessarily realised the one used in this case was such a "sensitive picture".
VoucherDigg.co.uk has not commented despite being approached repeatedly by the BBC.
Clarence Mitchell, a McCann family spokesman, previously told Sky News that the misuse of the image was "utterly appalling and frankly unforgivable".
The photograph of Madeleine, of Rothley, Leicestershire, had been released by her parents soon after she disappeared.
She was nearly four when she vanished from her family's holiday apartment in the Algarve.
Events have been held recently to mark the five-year anniversary of her disappearance - including a church service at her grandparents' church in Liverpool.