Malakai McKenzie murder 'linked to other shootings'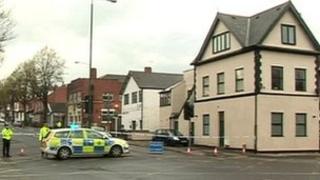 Police are linking the murder of a Nottingham teenager to two previous shootings in the city.
Malakai McKenzie, 19, was shot in the head outside The Hubb pub in Sherwood on 21 April.
The murder is being connected to shootings in the Basford area on 30 March and 3 April.
Police have arrested 11 people so far. Some have been questioned on suspicion of Mr McKenzie's murder, others of assisting an offender.
Detectives say they are also investigating whether three other suspects have fled to the Caribbean.
The first shooting in Basford happened on Riber Crescent, where a number of shots were fired.
Part of investigation
Then, four days later, a gun was fired on nearby Waterford Street.
It has emerged that both of the shootings are part of the investigation into the murder of Mr McKenzie.
Three men have been charged with murdering Mr McKenzie, who was from the Whitemoor area of the city.
Ijah Lavelle-Moore, 20, of Nottingham Road, New Basford, and Malcolm Vaughan Francis, 18, of Constance Street, New Basford, appeared in the dock at Nottingham Crown Court earlier.
Cameron Cashin, 20, of Liddington Street, in Basford, appeared via video link.
They are also accused of a firearms offence and were all remanded into custody.