Couple claim £1m jackpot after 'forgetting' to check ticket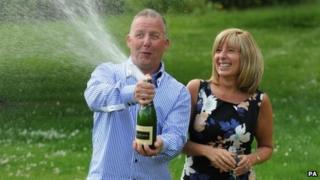 A couple who forgot to check their lottery ticket for two months have finally come forward to claim their £1m jackpot.
Alan and Kim Elliott, from Aspley, Nottingham, stuck the Euromillions ticket to their fridge on 23 March but only remembered to check it last week.
Mr Elliott said he was left "shaking" when he realised they had scooped £1m.
The win is the fourth lottery jackpot to have been claimed in Nottinghamshire this year.
Mr Elliott, 46, who works for a building firm, said the win came to light when he took a batch of tickets to be checked at his local newsagent.
He was told to "sit down and stay calm" when the shop assistant realised his ticket had won a fortune.
Buying new car
He said: "I thought she was pulling my leg but her boss came over and called Camelot for me as I couldn't think.
"I couldn't even write my name, I was shaking so much."
Their delay in claiming the prize prompted lottery operator Camelot to make a public appeal in April.
Mr Elliott said: "I was only talking with my colleagues about what we'd do if we won the lottery, not knowing that sitting in my kitchen was a real life-changing slip of paper."
Mrs Elliott, 45, who works for East Midlands Ambulance Service, said her manager let her leave work early to celebrate the win at their daughter's house.
The couple said they had no firm plans for how to spend the money but Mr Elliott revealed he would be buying a Range Rover and hoped to spend more time on the golf course.
The pair are the fourth Nottinghamshire couple to have claimed a major lottery win since the start of the year.
In March, Jim Emerton, 56, and his wife Maureen, 55, from Carlton claimed a £3.4m prize for matching six numbers in a Lotto draw.
Cassey Carrington and Matt Topham, both 22, from Stapleford, won a £45.1m Euromillions jackpot in February.
And Gareth and Catherine Bull, aged 40 and 35, from Mansfield, won £40.6m on Euromillions in January.