Nottingham police station firebomb riot gang sentenced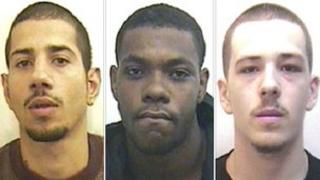 Fourteen people have been sentenced for their part in the petrol bombing of a Nottingham police station during last summer's riots.
The Canning Circus station was attacked by a gang on 9 August.
Lance Francis, 25, received the longest sentence of 14 years after being convicted of riot and arson with intent to endanger life.
Reiss Wilson, 21, was jailed for 12 years and and Curtis Dejean, 19, was detained for 10 years.
Wilson admitted riot, perverting the course of justice and arson being reckless as to whether life is endangered.
'Extreme mob violence'
Dejean, ordered to serve his sentence in a young offenders' institute, admitted riot, arson being reckless as to whether life is endangered and possession of explosives.
Eleven others involved in the same incident also received sentences of up to five-and-a-half years at Nottingham Crown Court.
Francis, of no fixed address, was also found guilty of perverting the course of justice.
Passing sentence, Judge Michael Stokes QC, said: "There can be no doubt about it. This was mob violence of an extreme nature.
"In short, a calculated defiance of the criminal law and deliberate attack on the police."
He added: "The use of such unstable weapons in a riot, aimed as they were principally at a police station and those inside it, created substantial risk to life and limb."
The judge praised Nottinghamshire Police for their actions in tackling the rioters.
The force's Assistant Chief Constable Paul Broadbent said: "I am very satisfied that the correct, right, lawful result has come out for people thinking they can behave exactly how they want on the streets of Nottingham.
Mobile phones used
"Our job is to protect the public and if that means putting ourselves in harm's way to do so, that's exactly what we do.
"Our officers were extremely brave and this is one of the proudest days in my 30-year career."
The trial heard a group of up to 40 youths had attacked the police station with petrol bombs and stones.
Parked and passing vehicles were also damaged in a night of trouble which followed serious violence in London.
Police said they used mobile phone records to show members of the group had co-ordinated the attacks.
Broken bottles found at the scene were reassembled and matched to photographs of petrol bombs on the phones.
Two youths, who cannot be identified for legal reasons, are yet to be sentenced, pending reports.
The rest of the gang's sentences were:
Callum Powell, 20, of Jarrow Gardens, Top Valley, found guilty of riot, sentenced to five-and-a-half years' detention in a young offenders' institute
Shaundrie Robinson, 22, of Scotholme Avenue, Hyson Green, found guilty of riot, jailed for five years
Gregory Coleman, 20, of Broxtowe, found guilty of riot, sentenced to five years' detention in a young offenders' institute
Antany Edwards, 24, of Noel Street, Hyson Green, admitted riot, jailed for three years and nine months
Ashton Alexander, 19, of Radford Road, New Basford, admitted riot, sentenced to fours years' detention in a young offenders' institute
Harrison McCalla, 21, of Carlswark Gardens, Top Valley, admitted riot, jailed for four-and-a-half years
Lucas Stapleton, 18, of Dulwich Road, Radford, admitted riot, sentenced to two years and nine months' detention in a young offenders' institute
Ricardo Cotteral, 23, of Basford Road, Basford, admitted violent disorder, jailed for three years
Bobby Muers, 18, of Caunton Avenue, St Ann's, admitted violent disorder, sentenced to 15 months in youth custody
Kaiden Howell, 16, of St Ann's, admitted violent disorder, sentenced to six months' detention and training
Marcus Wynter, 16, of St Ann's, admitted violent disorder, sentenced to four month's detention and training