Record-breaking cricket match under way in Loughborough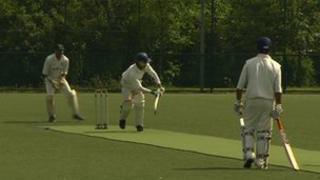 A Leicestershire cricket team is attempting to break the world record for the longest match.
Loughborough University Staff Cricket Club began their game on Sunday with the aim of playing more than 105 hours of continuous cricket.
The team are taking part in the endurance match to raise money for a children's cancer charity.
The marathon game is being played at Loughborough College. The cricketers aim to play until Saturday.
Christopher Hughes, from Loughborough University Staff Cricket Club, said: "There are 24 players in two teams of 12. Eleven and one sub-fielder all playing continuous cricket day and night on Loughborough College's artificial pitch, trying to raise as much money as we can."
Guinness World Records said the current record was held by members of Blunham Cricket Club in Bedfordshire who played for 105 hours from 26-30 August 2010.