Charter signed to boost Nottinghamshire as film location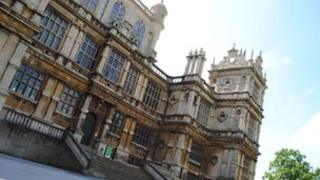 Nottinghamshire's city and county councils have signed a charter to encourage film-makers to choose the area as a location.
The signing of the Creative England's Film Friendly Charter took place at Wollaton Hall which features as Wayne Manor in the new Batman movie.
Scenes from The Dark Knight Rises were shot at the hall last year.
Council leaders said promoting the area as a film location could provide a huge boost to the local economy.
Improvements worth £100,000 were made to Wollaton Hall for the filming of the new Batman movie, which is released on 20 July.
'Diverse backdrop'
Warner Brothers paid for the redecoration of The Great Hall and entrance hall and re-gilded some windows at the back of the property.
The studios also paid a fee to use the Elizabethan house as Wayne Manor - Batman's home - in the movie.
Councillor Kay Cutts, leader of Nottinghamshire County Council, said: "Nottinghamshire and Nottingham can provide a hugely diverse backdrop for film-makers.
"From both modern and historic buildings in our towns and cities to beautiful village settings, woodland and countryside - potential film sets can be found around every corner of our county.
"By promoting our area as a film friendly location, we can provide a huge boost to the local economy.
"Major film projects bring hundreds of people into the area during filming and the positive impact it can have for local businesses and tourism will last for many years to come."