Portuguese man o' war almost halts Adam Walker's Molokai Straits swim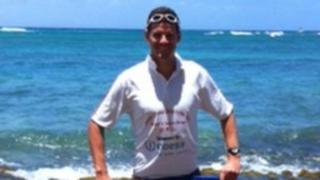 Open-ocean swimming is among the toughest sporting disciplines in the world, but for one Nottinghamshire man his latest challenge in Hawaii was "the hardest yet".
Adam Walker, 33, from Huthwaite, swam 26 miles across the Molokai Straits, to raise money for charity.
During the swim, he was stung in the face by several jellyfish and "nearly shot out of the water" after being stung by a Portuguese man o'war.
He also came close to a large tiger shark during the 17-hour challenge, which he completed on Friday.
This was Adam's third swim in a series of seven open-ocean swims across some of the most challenging channels in the world.
Stuck tentacle
He has already completed swims across the English Channel and the Straights of Gibraltar and has become the first Briton to swim the Molokai Straits - only 22 swimmers have ever completed the challenge.
Mr Walker said: "It was the most difficult swim I have ever done, but it was definitely worth it.
"I'm one step closer to achieving the Ocean's Seven."
But his encounter with the man o' war almost put pay to his latest challenge, which he embarked on to raise money for Sports Aid.
He said: "I was stung after 14 hours and I can only describe it like someone had slashed me repeatedly across the front of my stomach and down the side.
"I was shouting in agony for around two minutes, holding my stomach and realised I had a 5in (12cm) tentacle stuck to my stomach, which I ripped off."
Mr Walker then swam to the support boat and took an antihistamine pill.
"Within minutes I started to vomit repeatedly and had to stop every few strokes again to vomit," he said.
"I just didn't want the swim to be pulled, so I tried to mentally block out the pain and not touch the sting."
At one point during his ordeal Mr Walker said he felt paralysis setting in.
'Just my luck'
Peter Richardson, Marine Conservation Society's jellyfish expert, said: "Getting stung [by a man o' war] is very, very painful.
"As long as the tentacles are wet they remain active, so even if they come off the animal they remain alive and will continue to sting and deliver their toxins.
Mr Richardson described man o'wars as "amazing creatures", that are not actually jellyfish, as many people believe.
"You've got this whole being, which is actually made up of different animals that have different forms and functions to make up the body as a whole," he said.
"The sting causes skin lacerations, convulsions and, in rare cases, death."
During his swim, Mr Walker also came close to a large tiger shark.
He said: "I have never seen a shark before on any of my swims, but this one, which was at least two metres long, followed us for a few minutes at a depth of about 15-20ft."
The crew also reported another shark sighting just before Mr Walker completed the challenge.
He said: "I do remember thinking, wouldn't it be just my luck if a shark took me 100 yards from the shore."
Mr Walker now plans to start training for his next swim across the Catalina Channel, between Santa Catalina and California.