Warsop murder accused 'invited for sex'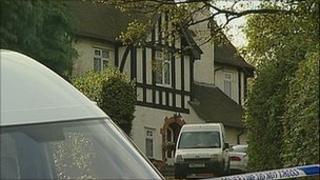 A man accused of being recruited to kill the husband of a Nottinghamshire woman has said he only went to her house as he was invited back "for sex".
Stephen Shreeves, 40, of Church Warsop, is one of three men accused of murdering 61-year-old Clifford Collinge in Market Warsop on 8 October 2011.
Mr Collinge was found in a pool of blood with 46 separate injuries at his house in Sandy Lane.
Mr Collinge's wife, Charlotte, aged 45 and of Sandy Lane, also denies murder.
Nottingham Crown Court heard Mr Shreeves, Robert Proud, 36 of Greendale Close, Warsop and Kelvin Scott Dale, 27, of Forest Road, Warsop, met Mrs Clifford in a pub on the night of the murder.
Mr Shreeves said he had never met Mrs Clifford before that night but she started flirting with him.
"She behaved very sexually towards everyone," said Mr Shreeves. "Someone said if you buy her half a lager, she'll do anything."
He said Mrs Collinge invited the three men back for sex and when near her house, Mrs Collinge told the men she hated her husband and asked if they knew anyone who could kill him.
'Punched in face'
Mr Shreeves told the court: "I thought she was crazy. I didn't take her seriously."
The group went upstairs after seeing Mr Collinge and his friend Stephen Boardman sat on the sofa and Mrs Collinge started demanding drugs, the jury was told.
She left with Mr Proud while Mr Shreeves and Mr Dale waited in the bedroom.
But they decided to leave when Mr Boardman came upstairs and waved a knife at them, the court heard.
Mr Shreeves said upon going downstairs the men were confronted by Mr Collinge. He said Mr Collinge swung a metallic weapon at him and he punched him in the face.
He also said he saw Mr Boardman with a guitar in his hand, brandishing it as if to hit someone with it.
At about 21:30 GMT, the men left the house to return to the pub. Mr Collinge was found dead on the floor by police and paramedics, just after 22:00 GMT.
Mrs Collinge was arrested at the scene. She said she had returned home to find her husband on the floor.
Mr Shreeves and Mr Dale handed themselves into police the next day. They admitted there had been a fight but said Mr Collinge was alive when they left the house.
Mr Shreeves denied killing Mr Collinge and said: "We went for sex and that was it."
The trial continues.