Nottinghamshire Police deny stop and search racism claim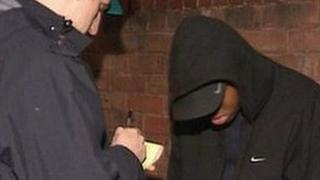 Nottinghamshire police have been accused of "blatant racism" over their use of stop and search powers.
A new report shows that, while the number of searches has almost halved, black people are still nine times more likely to be stopped than white people.
The force called this "unacceptable" and said officers would get more training but denied they were racist.
Anti-crime campaigner Hyacinth Francis said current rules on recording searches were not being followed.
Report author, Det Ch Supt Ian Waterfield, said that of 2,500 stop and searches in 2011/12, 480 were conducted on black people and 259 on Asians.
Searches 'justified'
As black people are a far smaller percentage of the population, this means individually they are far more likely to be affected.
Det Ch Supt Waterfield said: "We identified that disproportionality rates in Nottinghamshire are unacceptably high and have been stubbornly high for some time."
He added: "But (officers) do have to justify the power. They have to justify it to the individual they are stopping and searching at that particular time and they have to justify it to senior officers and other auditors.
"It is not just something an officer can do, there has to be a record of the search being carried out, why it has been carried out and whether an arrest has been made."
Arrest rates after stop and search have risen from 9.7% in 2009/10 to 12.3% in 2011/12 but Mr Waterfield admitted they were "nowhere near where we would want them to be."
Mutual suspicion
The force is to start a programme of special training with the National Policing Improvement Agency specifically focussing on stop and search powers.
A police spokesman said: "Nottinghamshire Police refutes any claim that it is racist.
"The force is aware that stop and search powers can cause concern and takes this issue very seriously.
"We are putting steps in place to ensure officers receive additional training and are looking at the ways in which the powers are used."
The spokesman added: "Stop and search powers are often utilised following a high profile incident, and tend to be focused in hotspot areas linked to intelligence.
"It is important for the force to engage with our communities and other agencies to understand their concerns, gain their full support and find ways to provide a better service."
Mrs Francis, founder of an organisation called Mothers Against Crime, said searches were not conducted fairly or recorded properly.
She added: "It is blatant racism, they are just being targeted. There is no relationship between the police and the young black kids and you can see why.
"(Black youths) think 'If they see us they are going to stop us'. If they go to the local shop and see the police, they turn around, which gets them stopped."