Nottingham has most deteriorated roads, figures suggest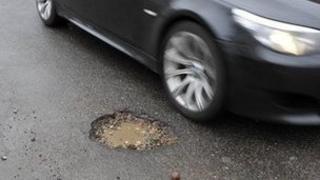 Nottingham's roads are among the most deteriorated in England, figures from the Department for Transport suggest.
The city's roads are also rated worse than any other local authority area in the East Midlands.
In Nottingham 42% of roads show deterioration, with only the Isle of Wight, North Lincolnshire and the City of London being worse.
Nottingham City Council said government cuts to its budget had limited its ability to maintain and improve roads.
Chris Needham, who represents GMB union members in Nottingham including professional drivers, claimed the council was cutting back on road maintenance because of budget cuts by central government.
"The car owning person in Nottingham is not getting a fair share of their return," he said.
"Things like road tax are not being used primarily for roads, they are being used for everything else.
"The only consequence of that is going to be more claims - people damaging their cars and even people walking across roads falling into potholes."
The figures were gathered using scanner vehicles during the financial year 2010-11.
In the city, 37% of roads are "amber", meaning they show some deterioration and should be investigated to see if they need treatment.
Some 5% of the roads are "red", showing considerable deterioration and maybe needing maintenance within 12 months.
The figures suggest Nottinghamshire's roads are better than the city, with 18% classed as amber and 3% as red.
Nottingham city councillor Jane Urquhart said: "The city council puts maintaining our roads amongst our top priorities.
"However, cuts to the council's budget has limited our ability to maintain and improve roads."
The authority said it had been unfairly targeted by government spending cuts of £80m over the last three years.
In England as a whole, 25% of roads are amber and 5% are red.