Nottingham Forest owners consider new stadium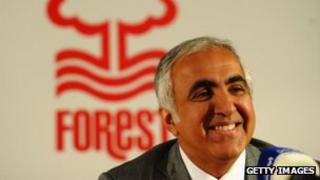 Nottingham Forest's new Kuwaiti owners have said they are considering a new stadium for the club.
The Al-Hasawi family completed their purchase of the Championship club last week, and have a three-to-five-year plan to get the team promoted.
Abdulaziz Al-Hasawi said a new stadium was something the group was looking at for the long term.
He added that the priority was to make changes at the current stadium, the City Ground.
Mr Al-Hasawi said: "[A new stadium] is something we are looking at and studying. Our main focus and concern is to renovate and refurbish the existing stadium, the City Ground."
A move away from the City Ground had been considered by former owner Nigel Doughty, who died in February.
Land near Gamston, in Nottinghamshire, was chosen as a location for a new 45,000-seat football ground in 2009.
It would have been used as a venue for the World Cup in 2018, had England won the bid.
New stadium plans came about after Nottingham City Council, which owns the City Ground, ruled out redevelopment work there in 2009.
The Gamston plans had faced opposition from nearby residents.