Nottingham's Broadmarsh shopping centre 'to get new focus'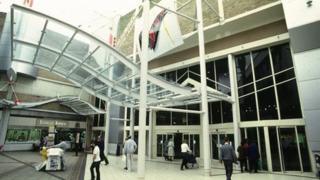 The new owners of Nottingham's Broadmarsh say the redeveloped shopping centre will focus on restaurants and specialist shops.
Capital Shopping Centres wants to make it distinctly different to the city's Victoria Centre, which it also owns.
The company bought Broadmarsh last year and the Office of Fair Trading recently approved the takeover.
Many of the units in Broadmarsh are vacant after a development planned by the previous owner did not go ahead.
The new redevelopment is not expected to be as major.
Councillor Graham Chapman, deputy leader of Nottingham City Council, said: "That was a design for a different age, an age where the economy was expanding.
"I think this is a doable scheme. It's going to be as good as we are going to get in the circumstances and it is the investment we need."
Could have cinema
Instead of having high street shops like the Victoria Centre, Broadmarsh will have small, specialist and independent shops.
As well as restaurants there could be a cinema.
The Victoria Shopping Centre will also be refurbished, and this is likely to start next year.
CSC hopes to end a "stalemate" between the two competing centres, which are on opposite ends of the city centre.
The company will also advise Nottingham City Council on improving Clumber Street and Bridlesmith Gate, the shopping streets which link the two centres.
The company will not fund the improvements to these streets.
The ideas are still being discussed but CSC hopes to submit a planning application for Broadmarsh in early 2013.
Work could start on site in 2014, dependent on planning permission, and the centre could potentially reopen in 2016.