Skegness seaside treat for 550 Nottinghamshire children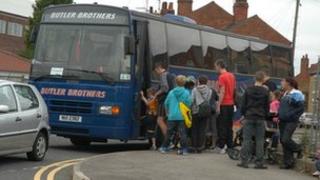 Hundreds of Nottinghamshire children are getting a free trip to the seaside thanks to a local taxi firm.
Mansfield taxi firm 6Five2 will use 50 taxis and four coaches to take the 550 children and families on the excursion.
The trip to Skegness on the coast of Lincolnshire will have a police escort as it leaves Mansfield and will include fish and chips and a donkey ride.
The children, from Sure Start centres in the area, are "not likely to go on holiday this year", organisers said.
Police escort
The convoy is the fourth one arranged by the firm.
Organiser Barry Answer said: "All our drivers drive for free and put their own fuel in, to give these families a great time."
Nottinghamshire County Council children's centre community involvement spokesperson Karen King said the day was "a dream come true for many of the children".
"This is a fantastic day out and it's great seeing the families enjoying themselves," Ms King said.
"For some of them, they won't have gone anywhere for the six-week school holidays, at least they have one day when they can have a good time."
"This event is going from strength to strength and happens because of the generosity of a lot of people," Mr Answer added.