Sex promise killing: Charlotte Collinge 'wanted husband's money'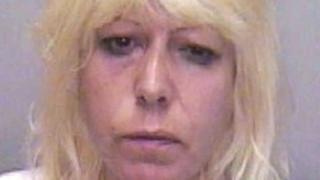 A woman jailed for life after luring two men back to her house and convincing them to murder her husband was motivated by money, police said.
Charlotte Collinge met two men in a pub and invited them back to her house with promises of sex in October 2011.
Collinge, 45, and her accomplices were jailed for the attack on Clifford Collinge, 61, at the house in Market Warsop, Nottinghamshire.
Following sentencing, police said she had wanted her husband's money.
Superintendent Kate Meynell, of Nottinghamshire Police, said Mr Collinge had refused to divorce his wife and she wanted to kill him because she was "in financial difficulties".
Rocky relationship
Supt Meynell said CCTV images from the pub showed Collinge "acting in a provocative manner" toward the two men and several other men in their group.
"She had told a friend on the day of the murder that she wanted [her husband] dead. She then seduced the two men into coming to the house with promise of sex," she said.
The court heard that Collinge had earlier moved a young boyfriend into the house she shared with her husband, a former newsagent who owned several properties.
Supt Meynell said her husband appeared to tolerate the situation because he was "besotted" with her.
"He would have done anything for her," Supt Meynell said.
"This was not only an act of violence, but one of betrayal on the part of Charlotte Collinge, the result of which has torn her own family apart."
The couple had one daughter, Cristal, 16, who said after the trial that her father was "my whole world."
She added: "It's been nine months now and I'm starting to realise I might not ever get over losing my dad."
Collinge was jailed for 23 years and her accomplices Stephen Shreeves, 40, and Kelvin Dale, 27, both of Market Warsop, were each jailed for 18 years.