Shane Webber groomed girls on webcam after leaving jail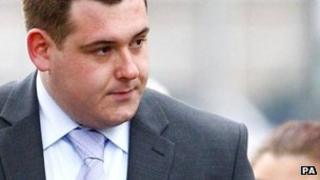 A man jailed for harassing his girlfriend by pretending to be a mystery internet stalker groomed two under-age girls online upon release.
Shane Webber, 23, of Nottingham, was jailed for four months for distributing sexual photos of his girlfriend online.
But in January, after his release, he persuaded two 15-year-olds to engage in sexual activity via webcams.
Webber has now been jailed for three years after pleading guilty to several charges at Nottingham Crown Court.
The court heard that one of the girls, who was already "very vulnerable", was sectioned under the Mental Health Act after the abuse.
'Physically sick'
The girl believed she and Webber were both in love with each other.
Webber, of Hodgkin Close, Clifton, still had sex videos of himself and his former girlfriend, Ruth Jeffery, which he used to try to groom one of his 15-year-old victims by showing her the footage over the internet.
Miss Jeffery said she felt "revolted" and "physically sick" when she found out about his new offences.
Dawn Pritchard, prosecuting, told the court: "She is appalled that he is using photographs of her, that should have been destroyed, to corrupt children and she now faces her final year at university worried by the prospect that this nightmare might continue."
Webber was jailed on 31 October 2011 and given a five-year restraining order which prohibited him from communicating with Miss Jeffery or displaying any material relating to her on social networking sites.
He had been in a relationship with Miss Jeffery for the whole time he harassed her.
For more than a year he distributed sexual photos of her on adult websites and sent them to her family and friends.
He also pretended to be former schoolmates and bombarded her with sexually explicit photos of men.
Webber tried to blame one of his friends, and Miss Jeffery only found out her boyfriend was behind the harassment when he was charged.
He was released from prison on 30 December 2011 and started communicating with the two 15-year-old girls, who he had known before being jailed.
MSN Messenger
Webber asked both girls to perform sexual acts while he watched via webcam, and one agreed.
He also performed a sexual act while the teenagers watched on the webcam.
The defendant admitted four charges of causing or inciting a female under 16 to engage in sexual activity and two charges of engaging in sexual activity in the presence of a child under 16.
He also admitted one charge of making indecent photographs of a child, which was for saving images from the webcam footage.
Webber was made the subject of a sexual offences prevention order, disqualified from working with children and under the Sexual Offences Act he must tell police whenever he changes his address or name.
The 23-year-old was originally charged with breaching his restraining order by distributing the material of Miss Jeffery on MSN Messenger.
But he pleaded not guilty to this because his defence argued MSN Messenger is not a social networking site. The CPS decided not to proceed with this charge.
Judge Michael Stokes QC described Webber as "extremely manipulative and devious".