Rebecca Adlington Olympic homecoming will 'beat the last'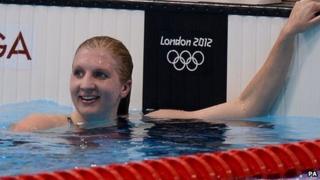 Homecoming celebrations are being planned for Rebecca Adlington and her fellow Olympian and Paralympians from Mansfield.
They are likely to include an open-top bus tour which greeted her return four years ago, said the district's mayor.
Paralympic swimmers Charlotte Henshaw and Sam and Oliver Hynd will be invited to join Adlington, along with badminton player Chris Adcock.
Adlington said she is looking forward to going home to Nottinghamshire.
She lives in Nottingham now but visits her family in Mansfield every weekend.
"I just love being around my family and and just going back home," she said.
Gift from mayor
"I would rather just spend the day at home than anywhere else so I can't wait to get back. I miss my little doggies as well."
Tony Egginton, the district's directly elected mayor, is planning to buy a gift to congratulate Adlington on her two bronze medals.
Four years ago he presented her with a pair of gold Jimmy Choo shoes, and a swimming pool was also named after her.
A date has not been set for this year's homecoming celebrations, but they will be held after the Paralympic Games.
"The challenge for me will be to beat the last one," said Mr Egginton.
Adlington has said she would like to be a contestant on Strictly Come Dancing.
Cycling tips from Wiggins
She is also planning to do a charity bike ride for Africa in October, then consider whether to continue her swimming career.
"I've not been on a bike since I was about ten, so it's going to be very, very different," she said.
"Hopefully Bradley and Chris can give me a few tips and help me out.
"I'm not going to think about the pool. I think I need to take a good break, mentally and physically. Just kind of be a bit normal for a little while and see how I feel.
"I think once I come back from the bike ride I'm going to see what shape I'm in and how I feel about it and whether I want to carry on or not."