Paralympic torch on show in Nottinghamshire town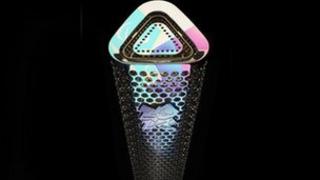 An official Paralympic torch will be on show at a Nottinghamshire store later in the build up to the torch relay.
British wheelchair tennis champion David Phillipson will appear with it at Sainsbury's in Cotgrave as part of the firm's Paralympics sponsorship.
The relay will begin in London on 24 August with the lighting of England's flame.
Flames will then be lit in Belfast, Edinburgh and Cardiff on each of the following days.
Each flame will be taken to Stoke Mandeville, home of the Paralympic Movement, where they will be combined at a ceremony on 28 August to create the London 2012 Paralympic Flame.
Later that evening, a 24-hour relay will start from Stoke Mandeville, as torchbearers will carry the flame to the Olympic Stadium to light the cauldron at the opening ceremony of the Paralympic Games.
David Phillipson made his Paralympic debut at the Beijing games in 2008. He became the No.1 ranked player in Great Britain, breaking the 14-year reign of four-time Paralympian Jayant Mistry.
The Paralympic Torch will be on show in Cotgrave from 09:30 to 11.00 BST.