Local TV: Two Ofcom applications for Nottingham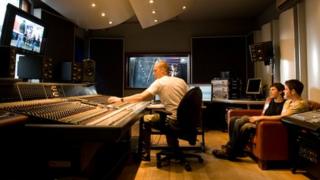 Two consortia have submitted applications to run a local TV station in Nottingham.
The bids are among 57 submitted to Ofcom by organisations hoping to run stations in 19 UK towns and cities.
The consortium behind one of the bids, Notts TV, includes the Nottingham Post newspaper and a former editor of ITV News.
The consortium behind the other bid, called Nottingham TV, includes a former editor of the Nottingham Post.
The Notts TV consortium includes Nottingham Trent University and Confetti Media Group, which worked with film director Shane Meadows on This Is England.
'News and creative'
Jason Beaumont, a director at Confetti, said: "The consortium is based around Confetti Media Group.
"I don't think there is one organisation who can deliver this fully on their own.
"We have independent specialisms, both in news and creative content."
He said Nigel Dacre, a former editor of ITV News and currently chief executive of Inclusive Digital, is a minority shareholder but would provide the specialism in broadcast.
Content would be produced by a mix of professionals, students and apprentices.
"We will have news gatherers from the Nottingham Post working with, and mentoring, broadcast journalism students from the university," he said.
"Also you have their [the Nottingham Post's] skills in the sales team and advertising."
'Poorer coverage'
The consortium for Nottingham TV includes Malcolm Pheby, who recently retired from his position as editor of the Nottingham Post.
Joining him are Steve Lambden, previously editor of a number of ITV regional news programmes, and Keith Daniell, managing director of The Media Group.
Mr Daniell said there has been less local news for Nottinghamshire since ITV Central News merged their programmes for the East Midlands and West Midlands.
He said the merger of Trent FM with radio stations in Derby and Leicester to become Capital FM had also reduced news outlets in Nottingham.
"Now you've only got the Nottingham Post and [BBC] Radio Nottingham, and that's it," he said.
"[BBC] East Midlands Today also serves the East Midlands.
"This is a way to address this poorer coverage of Nottingham and Nottinghamshire, which has diminished and depleted over the last five to ten years."