Newstead Abbey lead theft man Gurshoron Bhattie jailed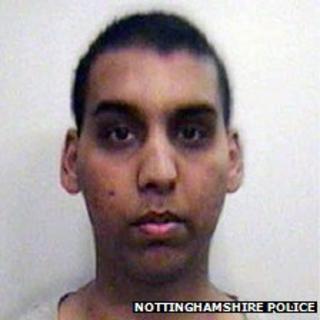 A man has been jailed for 18 months after admitting stealing lead worth tens of thousands of pounds from Nottinghamshire's Newstead Abbey.
Gurshoron Bhattie, 24, of Cornerpin Drive, Kirkby-in-Ashfield, admitted handling and taking lead from the grade I listed building in Ravenshead.
Nottingham Crown Court heard Bhattie sold the scrap metal for just £87.
Charges against Emma Foy, 24, and Frances McShane, 24, of Bestwood, were dropped due to insufficient evidence.
Nottinghamshire Police said the stolen pipes had been found at a scrap metal dealers and the car which had carried the lead was traced back to Bhattie.
More stolen lead was then found in Bhattie's car and back garden.
'Selfish acts'
After the sentencing on Tuesday, Ch Insp Sean Anderson said: "Newstead Abbey is among countless listed buildings that will never be the same again thanks to the disrespectful actions of selfish individuals such as Gurshoron Bhattie.
"He essentially sold pieces of Nottinghamshire's centuries-old history for £87 in scrap value."
Newstead Abbey was the ancestral home of poet Lord Byron and was founded by Henry II as an Augustinian priory in the 12th Century.
It is now owned by Nottingham City Council.
Neither the authority nor the police would comment on the exact value of the stolen lead.