Brain op pupil Charlotte Kemp 'elated' with A-level results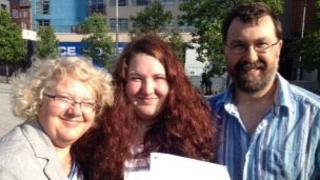 A Nottingham student who underwent brain surgery in her first year at sixth form college is celebrating passing her A-levels.
Charlotte Kemp, 19 and from Beeston, said she was "elated" after getting two Ds and an E in film, photography and textiles at High Pavement college.
Her parents said they were astounded at her "tenacity and perseverance" as she battled against the brain injury.
Charlotte will now undertake a foundation year in art and design.
'Going blind'
Charlotte suffered from constant headaches during her first year in sixth form and was later diagnosed with hydrocephalus or fluid on the brain.
She had brain surgery at the Queen's Medical Centre in Nottingham in 2010 and spent two weeks in hospital after a tumour was removed.
Despite spending several more weeks recovering at home, she still managed to complete her year at school.
"I had a lot of headaches - and I was going blind every five minutes - so it was difficult trying to do art when you can't see.
"The blindness would come and go," she said.
Her father Colyn said the brain injury left Charlotte with balance problems.
"[She also had] processing problems so it was difficult for her to think of the words she needed to write down," he said.
"She has had a long and difficult journey to get to where she is now. We are all astounded at her tenacity and perseverance."
Her mother Carmel Gummett-Kemp said: "The [college] staff have been brilliant including the reception staff who made her feel very special."
Charlotte said she hopes to study costume design at Nottingham or Bournemouth after completing her foundation at New College Nottingham, next year.