Maggie's cancer centre at Nottingham hospital burgled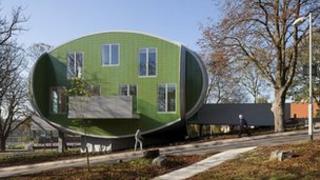 Burglars have broken into a Nottingham charity cancer care centre and stolen computers.
The Maggie's centre at Nottingham City Hospital, which began taking in patients a year ago, was targeted overnight on Thursday.
Four computers in an office area were taken but users have been assured no personal details were lost.
Staff said they felt "disgusted" and "violated" but insisted the centre's work would continue.
The £3m centre was the focus of a major public fundraising campaign.
It was officially opened by designer Paul Smith in November 2011 but was taking patients from August.
Kate Martin, cancer support specialist, said: "We encourage people to view the centre as a home from home and it is a bit like having your own home broken into really.
"So we are feeling really violated and disgusted at what has happened."
Police have appealed for anyone with information about the burglary to get in touch.