Colwick car cruising noise 'stamped out' by injunction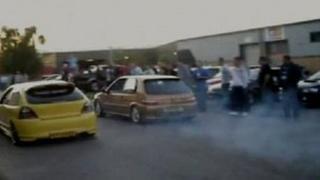 Noise caused by hundreds of "boy racers" on a Nottinghamshire road has been effectively stopped by an injunction, police have said.
The order was introduced in April after complaints about cars cruising around Colwick near Nottingham.
Residents had complained that up to 200 cars made so much noise that it was impossible to watch TV or get to sleep.
Police spokesman Andy Hall said the force had not received any complaints since the ban was put in place.
'Excessive noise'
"The injunction appears to have stamped out the problem and there have been no reports that cars have shifted to another location," Det Ch Insp Hall said.
The injunction allows police to arrest drivers or passengers for "causing excessive noise, danger to road users, injury to others or damage to property".
Nottinghamshire county councillor Mick Murphy said: "The everyday lives of local people in Netherfield and Colwick were blighted by the activities of car cruisers and I am delighted for the residents and businesses that our action appears to have successfully tackled the issue."
Police said the injunction would be enforced with increased patrols, CCTV and automatic number plate recognition cameras.
The injunction, which was obtained by the South Nottinghamshire Community Safety Partnership, expires in December 2014.