Nottinghamshire Police chief constable Julia Hodson retires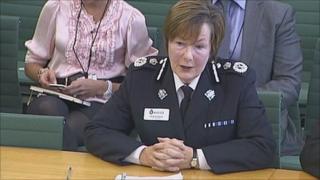 The first female chief constable of Nottinghamshire Police has officially retired from her post.
Recorded crime in Nottinghamshire fell while Julia Hodson was in charge.
But she said staff redundancies and compulsorily retiring officers had been among the most difficult decisions during her career.
The former deputy chief constable, Chris Eyre, has now officially taken over from Ms Hodson after being acting chief constable since April.
Ms Hodson spent the last five months of her career working on behalf of the Association of Chief Police Officers (ACPO) on a piece of work in preparation for the introduction of Police and Crime Commissioners.
Changes to management
A coal miner's daughter from Derbyshire, Ms Hodson joined Merseyside Police in 1982, before moving to Greater Manchester, Lancashire, West Yorkshire, and finally Nottinghamshire in June 2008.
In 2010 the police force and authority were told to improve following a capability review by the Police Inspectorate - the first of its kind looking at a police force and police authority.
The report, published in March 2010, described Ms Hodson as "popular", "respected" and a "good role model" but described leadership of the police force as weak.
This prompted Ms Hodson to recruit new members of the chief officer team, and Mr Eyre was brought to the force from Leicestershire.
In 2008-09, there were 124,880 crimes recorded in Nottinghamshire, but this fell to 77,421 in the 2011-12.
Phil Matthews, chairman of Nottinghamshire Police Federation, said while crime had fallen, budget cuts would be a major challenge for Mr Eyre.
He said: "We are losing £42m over the next few years and we are at the lowest officer level we've been that I can remember.
"I hope that crime rates can stay as low as they are now, if not go down, but our main concern is will we be able to keep that fall going in future?"