John-Paul Johnson killing: Two jailed for Mansfield murder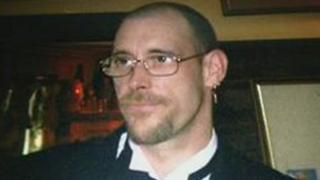 Two men have been jailed for the murder of a fellow tenant at a housing complex in Nottinghamshire.
John-Paul Johnson, 42, of Chesterfield Road South in Mansfield died after an attack in October last year.
Carl Green, 25, of Chesterfield Road South, was jailed for 19 years and Christopher Buckland, 29, of the same address, was jailed for 16 years at Nottingham Crown Court.
Mr Johnson, who was found dead in his room, died of chest injuries.
Both men had admitted murder at a previous hearing.
Daniel Bastable, 20, was also charged with murder but a jury failed to reach a verdict in his trial, and a not guilty verdict was recorded.
He pleaded guilty to perverting the course of justice after he helped move Mr Johnson's body and gave a false statement to police.
He was sentenced to 30 months in a young offenders institution.
'Turned nasty'
Detective Inspector Rob McKinnell, who investigated the murder, said: "This was a prolonged attack on John-Paul Johnson by men whom he would probably have considered to be friends or associates.
"They had all been together in the house they shared where they continued drinking and talking. Unfortunately things then turned nasty when John Paul said something the others didn't agree with."
In a statement, Mr Johnson's family said: "No guilty plea or sentence can ever compensate for our loss.
"The trial of Daniel Bastable has meant that the minute details of John-Paul's cruel death have been described in court, which has been unbearable for us to endure.
"Circumstances had brought John-Paul to live under the same roof as those who took his life, and it is painful to know that a place he had gone to for shelter and sanctuary could not ultimately guarantee either for him."