Rainworth secure unit faces questions over future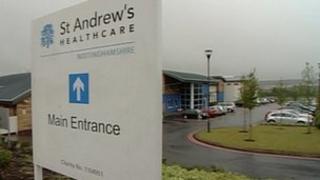 A Nottinghamshire mental health unit from which two patients escaped late at night is facing questions over its future.
Police were called by the St Andrew's facility near Rainworth on 29 August after the "low security" patients escaped. They were found soon after.
In July 2011, a convicted paedophile on day-release from the same unit attempted to rape a 10-year-old boy.
Sherwood Conservative MP Mark Spencer said serious issues needed to be faced.
"If these people were able to get out when they shouldn't have, there's clearly something wrong," said Mr Spencer, who represents the area.
"I hope they [St Andrew's] listen to Nottinghamshire Police, have taken on their advice and this won't happen again.
"But if they can't give us those guarantees, if we're not satisfied with the care, I don't see any way forward other than to close the facility."
Questions were raised about the St Andrew's unit after Shaun Tudor, of no fixed abode, tried to rape a boy while out for the day on unsurprised leave in July 2011.
After Tudor was jailed indefinitely in November 2011, St Andrew's Healthcare, a not-for-profit charity which runs the unit, said an internal investigation had found the decision to allow unescorted leave was "clinically appropriate".
In response to Mr Spencer's remarks, in a statement St Andrew's Healthcare said: "Two vulnerable patients were quickly returned to safety at our facility on Sherwood Oaks Business Park where we provide care for adult men with learning disabilities and autistic spectrum disorders.
"Those involved were cared for in the lower security area of the unit and, like other patients at the unit, are detained without special legal restrictions.
"Of course we must thoroughly investigate their absence late at night and we are working closely with the police to review the circumstances."
'Security review'
A Nottinghamshire Police spokesperson said two low-security patients were reported missing by staff at St Andrew's just after 23:30 BST on 29 August and after a search involving police helicopters, were found two hours later.
"Since this incident, Nottinghamshire Police has held meetings with directors of the unit to review security arrangements at St Andrew's.
"The force has also begun an investigation in to the incident to determine how the men were able to leave the unit and to establish precisely what their movements were while outside the unit," said a spokesman.