Malakai McKenzie death: Three deny murder charges in Nottingham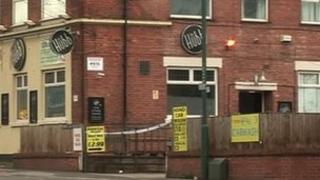 Three Nottingham men have denied murdering a 19-year-old man outside a pub.
Malakai McKenzie, of Nottingham, died after a shooting outside The Hubb in the Sherwood area of the city in April.
Cameron Cashin, 20, Ijah Lavelle-Moore, 20, and Malcolm Vaughan Francis, 19, all of Basford, are also each charged with three counts of attempted murder and one count of firearm possession.
A provisional trial date was set for 26 November at Nottingham Crown Court.
Mr McKenzie died in hospital on 21 April.