Balwinder Dhami: Reward offered over Kimberley attack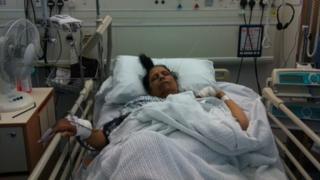 The son of a grandmother attacked by a gang of burglars at her Nottinghamshire home says she is critically ill.
Balwinder Dhami, 64, had a heart attack five days after the four burglars assaulted her at her home in Kimberley.
They forced their way into her bungalow in Bassett Close after she answered the door on the evening of 25 August.
A £5,000 reward has been offered to help find the men, who held a knife to her throat, repeatedly punched her, and sprayed her face with cleaning fluid.
After having a heart attack on 30 August, Mrs Dhami had an operation and was put on a heart support machine.
But she then developed an infection and was taken off the heart support machine on Friday.
Her son, Harnack, said: "They said they can't put a support machine in while treating the infection, but we need to treat the infection in order to stabilise the condition.
"Without the heart support machine her heart is not strong enough to keep her blood pressure up and blood working.
"My mum is fighting for her life right now."
The 15-minute burglary happened at about 19:50 BST.
Boiling custard threat
Mr Dhami said one of the robbers punched his mother in the face, causing her to fall to the floor.
As well as being repeatedly punched, Mr Dhami said his mother was dragged around by her hair and fell unconscious.
He said bathroom cleaning fluid was sprayed in her face, a fizzy drink was poured over her head and the men threatened to pour boiling custard over her while demanding money.
"Them attacking her the way they did and putting her through the 15 minute ordeal and treating her like that basically pushed her over the edge," said Mr Dhami.
""She was complaining about heart palpitations [in the days after the attack] and because of the ordeal she had been through she was still very edgy."
Mr Dhami said the men only left when they saw a witness over the road telephoning police.
They took only £24 in cash, Mrs Dhami's necklace and some of her bangles.
The offenders are described as white, aged between 18 and 21, and all about 5ft 6in to 5ft 7in tall, with three having short hair.
One is described as being of plump build and wearing a distinctive light blue hat and white T-shirt.